The Shaft is an ongoing artistic and curatorial collaboration between Maiza Hixson and Lauren Ruth.
Founded as a gallery-as-work-of-art in a dilapidated warehouse elevator in 2011, The Shaft stages performative interventions that query the conventions of contemporary social ritual and curatorial/artistic practice by occupying borderless, creative territories. Often taking place in public spaces, Shaft performances engage with passersby and facilitate organic exchange between artist and viewer.
For additional documentation and video of Shaft performances visit:
---
Romantic Dinner for Thirty & Total Wedding Package, 2013
The Shaft performed a romantic dinner for thirty and a free total wedding package during its October residency at Cannonball in Miami, FL.
---
HIGHER LOVE, 2013
Part of Experiment #23b with the Institute for Psychogeographic Adventure
The Shaft performed a series of group weddings to eleveated consciousness in the freight elevator of the Brooklyn Museum of Art.
---
A Wedding Package, 2013
The Shaft officiated over 19 public commitment ceremonies at the Koban Project space, located in a defunct police kiosk next to the Baltimore train station. 
---
Intensive Six-Week Curatorial Training School for Artists, 2012
Gallery as school as work of art
The Shaft built a free, open-air curatorial school for artists at the University of the Arts in Philadelphia. Supplies included a white cube gallery start up kit and curatorial curriculum.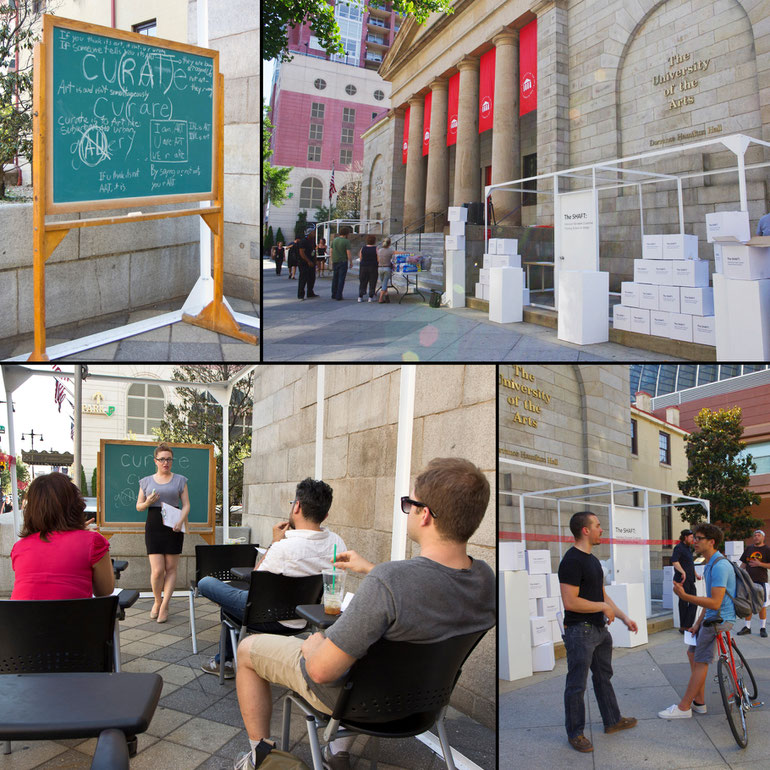 ---
White Cube Getaway, 2012
The Shaft advertised its new location on Philadelphia's main thoroughfare. 
---
On Pulse SPECIAL REPORT: SHAFTED, 2012
Shaftvision reporter Katie Cooper goes deep into the heart of controversy surrounding the global green energy company Sustainable Shaft and its new energy drink, SPASM.
---
Sustainable Shaft: Need a LIFT?, 2012
Corporate community outreach event and protest
The Shaft endeavored to sustain itself as a green energy company. As curators talking out of both sides of our mouths, The Shaft posed as both CEOs and protestors of Sustainable Shaft, Inc.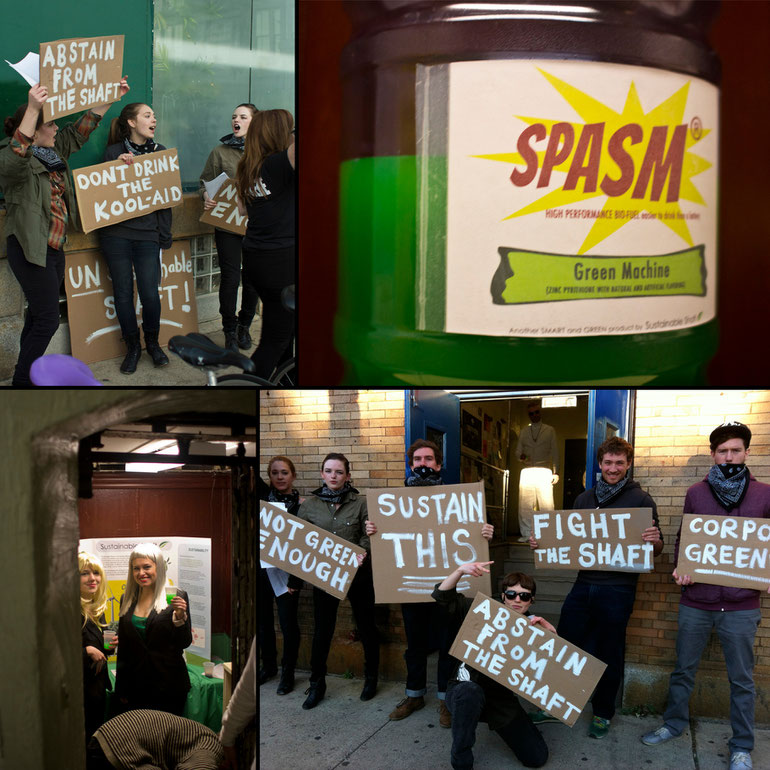 ---
The Shaft Giveth, 2012
Closing as opening as work of art
As an intimate, rent-free elevator gallery responding to complaints and concerns, The Shaft performed a temporary closure, disappearing before the opening of the exhibition.
---
Le Shaft: Now Accepting Reservations, 2012
Pop-up French restaurant
The Shaft parodied itself as an exclusive French bistro. Establishing rapport with the visitor, the curatorial menu offered food for thought, including the subtext that The Shaft was attempting to seduce the visitor.
---
Pre-Vaporism, 2012
(Art) Movement in The Shaft
Entertaining metaphors of movement, The Shaft introduced Pre-Vaporism, a manifesto calling for the end of art objects with a theoretical dance party. 
---
SHAFTING, 2011
Gallery opening as work of art
For The Shaft's inaugural exhibition, Hixson and Ruth transformed a Philadelphia warehouse elevator into a pristine white cube gallery called The Shaft as a convivial act of subversion.
---